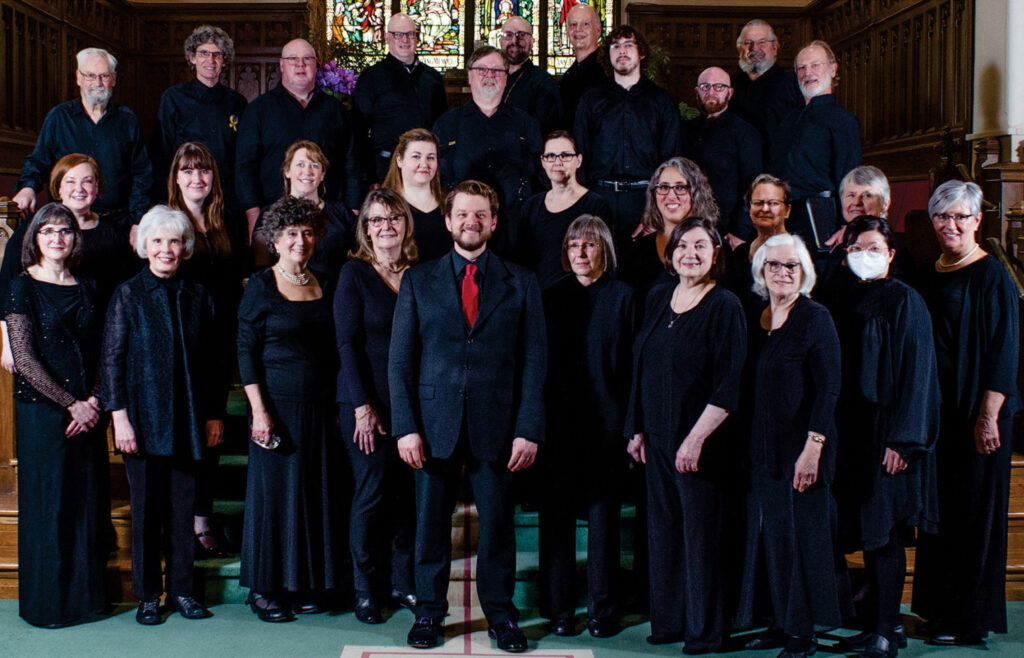 Auditions
LPMC welcomes new members. Please contact Paul Grambo at [email protected] to schedule an audition.
---
Seasonal Flex Pass
Makes a great gift!
5 tickets for the price of 4.
$120
The 2023/2024 Seasonal Flex Pass is available now!
Saturday November 25th – 7:30pm
*Full concert performance with instruments*
Sing-along Messiah 
Sat. December 9, 2023 – 3:00 pm
First-St. Andrews United Church
350 Queens Ave
London ON N6B 1X6
Sat. December 16, 2023 -2:00pm
St. Mary's United Church
85 Church St. S.
St. Mary's ON N4X 1B3
$25 General Admission
Welcome all!
I am so pleased to announce London Pro Musica Choir's new and very exciting 2023/24 concert season.
Last season LPMC re-established itself as a premier choir in a post-COVID world and we welcomed Paul Grambo as our new artistic director. We are pleased to announce that by mutual agreement Paul will provide his inspirational direction to LPMC for at least another 3 years. 
Our 2023/24 season, titled Taking Root, is dedicated to many traditions and communities within our city. We are making every effort to ensure that our repertoire reflects that diversity and that our audience will be inspired to attend our outstanding variety of performances.
Our First Concert will be a perennial favourite Handel's Messiah on Saturday, November 25 at our new home, St. James Westminster Church in Wortley Village. It will be followed by a Sing-Along Messiah on December 9 when we will once again partner with First St. Andrew's Senior Choir and Strings at First- St. Andrew's  United Church.
In the new year, as a continuation of the "Common Ground" theme established at last year's Good Friday concert, we present The Green Cathedral on March 29, 2024 (Good Friday), which again will include music from a variety of religious traditions.  
We are very pleased to partner with the Antler River Project and St. James Westminster Church to present Oliver Whitehead's Mass for All Creatures on Earth Day, Monday April 22. Our 2023-24 season closes with a rousing performance of Carl Orff's Carmina Burana on Saturday, June 8. 
Ticket pricing has slightly increased over last year with a base price for individual tickets set at $30, and premium concerts set at $40 (The Messiah). However, we are pleased to offer you a special 5-for-4 Flex Pass for $120 that gets you 5 seats for the price of 4. You choose which concerts you wish to attend. For example, you can bring 4 friends to one concert or you and your partner can attend 2 concerts with the same pass, and still have another seat leftover to use at a different concert. This FlexPass does expire at the end of each season, so please make sure you use it accordingly. Also, we think it would make a wonderful gift for your hard-to-buy-for relatives and friends. 
In June of 2024 the London Pro Musica Choir's "Harmonic Hikers" are looking forward to participating in the annual Forest City Road Race to raise money for the Thames Valley Children's Centre and London Pro Musica Choir. WE hope that you will sponsor one of our choir members in this important community event. Last June, in our first year of participation, we raised nearly $7000 and were the top fundraising team. We hope to top the number in 2024. 
We look forward to welcoming you to our 2023-24 season as we truly believe that we bring you "Voices that Inspire". 
Ian Davies
President, London Pro Musica Choir.
This was a promotional video created for LPMC by students from the CEL project which LPMC has engaged with in conjunction with the Music Education in the Community Course at Western. LPMC would like to extend our thanks to the two students who created the video,  Lexi Graham and Evin Chaves.