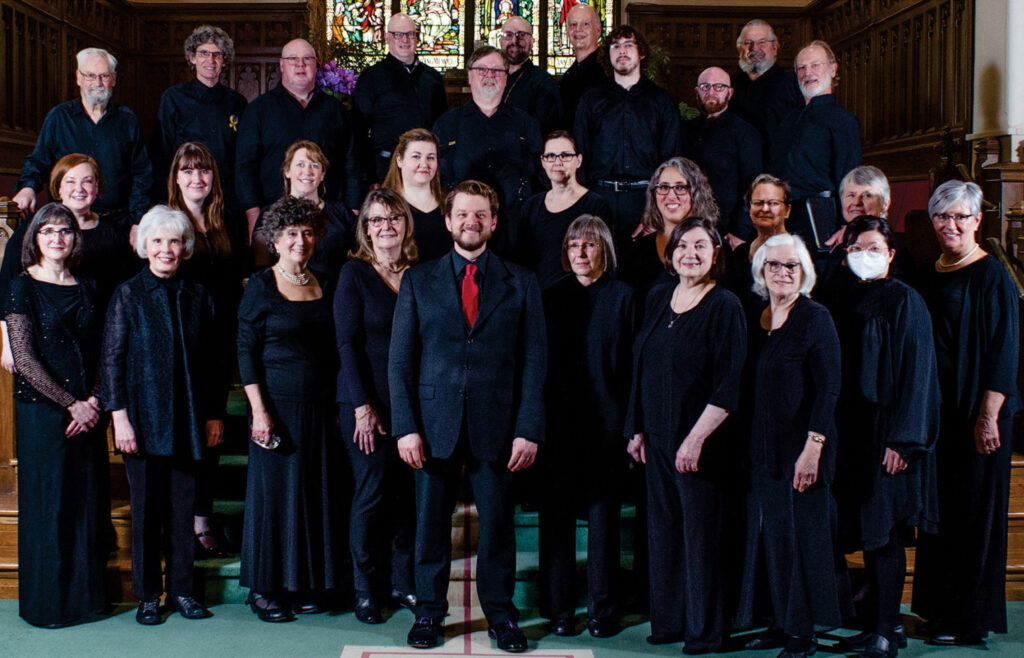 Sat. June 10th, 2023 – 7:30 pm
St. James Westminster Church, 115 Askin Street, London
$25 General Admission
Up Coming
London Pro Musica Choir is pleased to announce that we are participating as a Partner in the 2023 Forest City Road Races on June 11th. To donate to LPMC or join our team, the Harmonic Hikers, please go to www.forestcityroadraces.com to sign in. Thank you for your support & we hope to see you there!
---
Auditions
LPMC welcomes new members. Please contact Paul Grambo at [email protected] to schedule an audition.
---
Seasonal Flex Pass
Makes a great gift!
5 tickets for the price of 4.
$100
The 2023/2024 Seasonal Flex pass will be available at our June 10, 2023 concert!
Welcome all!
It is with great pride and satisfaction that I welcome everyone to our new and improved website and our very exciting 2022/23 concert season.
What a difference a year makes! Last year, as we started rehearsals we really didn't know whether  we could continue with in-person rehearsals nor if we would be able to give our Christmas concert to a live audience. Despite successive waves of the coronavirus infections, we were fortunate in being able to present three well-received concerts. Even though we  were masked for two of them, the concerts were fun to do and the response from the audience was gratifying!
This is certainly a year of renewal as we welcome many new and former choristers who did not join us last year. LPMC has re-established itself as a premiere choir dedicated to many traditions and communities within the city. We are making every effort to ensure that our repertoire reflects those communities and that our audience includes representatives from these diverse communities.
This was a promotional video created for LPMC by students from the CEL project which LPMC has engaged with in conjunction with the Music Education in the Community Course at Western. LPMC would like to extend our thanks to the two students who created the video,  Lexi Graham and Evin Chaves. 
While we are still uncertain about a lot of things with the progression of the pandemic, we have decided to be a little more adventurous about what we can offer to our audience and patrons this year. We started off our season with a Tricks and Treats  concert on Oct. 29th.   That concert was a mixture of irreverence and sober reflection as we had fun with Halloween and remembered the souls and sacrifices of people who have passed in this world. 
Although we will include some old favourites in our repertoire (in December we performed a Sing-along Messiah with First St. Andrew's Senior Choir and Strings, and a Concert Messiah), the 2023 repertoire will be decidedly more eclectic.  The April concert, Common Ground, will include music from many religious traditions and will be performed at St. James Westminster Church on Good Friday, April 7.  Our June concert, Even as the Springtime will be a fitting end to this extraordinary season.
We have also redesigned our ticketing with a special 5 for 4 Flexpass this year.   For $100 you can purchase a single ticket that can be used for 5 seats at as many concerts as you choose.  You can bring 4 friends to one concert, or you and your partner can attend two concerts each with the same pass, and still have another seat leftover to use at a different concert.  This Flexpass will not expire.  If you don't use it for the 2022/23 season, you can use it for our 23/24 season.  We think it will make a wonderful gift for your hard-to-buy-for relatives and friends. 
We hope you find this season as gratifying to attend as we are finding it inspiring to plan.
Theresa Hyland
President, London Pro Musica Choir
London Pro Musica Choir lends their support to the Ukrainian people and all who are suffering from the war in the Ukraine. We will be accepting donations for Humanitarian Relief for the Ukraine at our concert on March 27th at First St. Andrew's Church.